Financial freedom is an incredible feeling and can be achieved in an ever growing number of ways. Whether you are looking to grow a side hustle, diversify your income or just create a little extra money each month . But which is best? Dropshipping vs Amazon FBA.
Dropshipping and Amazon FBA are two popular options when looking to grow your income. But which option is right for you? In this blog we will take you through Dropshipping and Amazon FBA, explaining what they are, their strengths and weaknesses and how they could benefit you.
By the end of this blog you will have a stronger understanding of both business models and which one may suit your personal lifestyle.
Now, let's get started!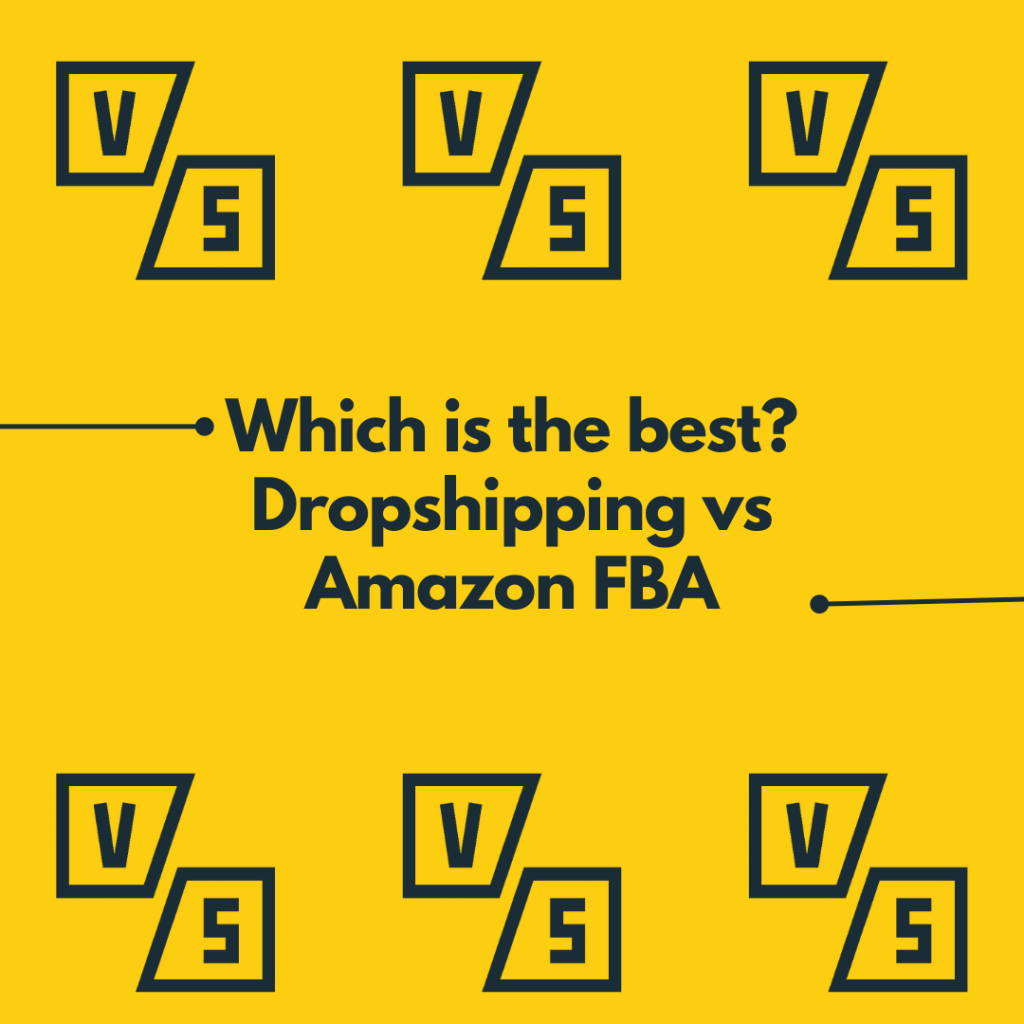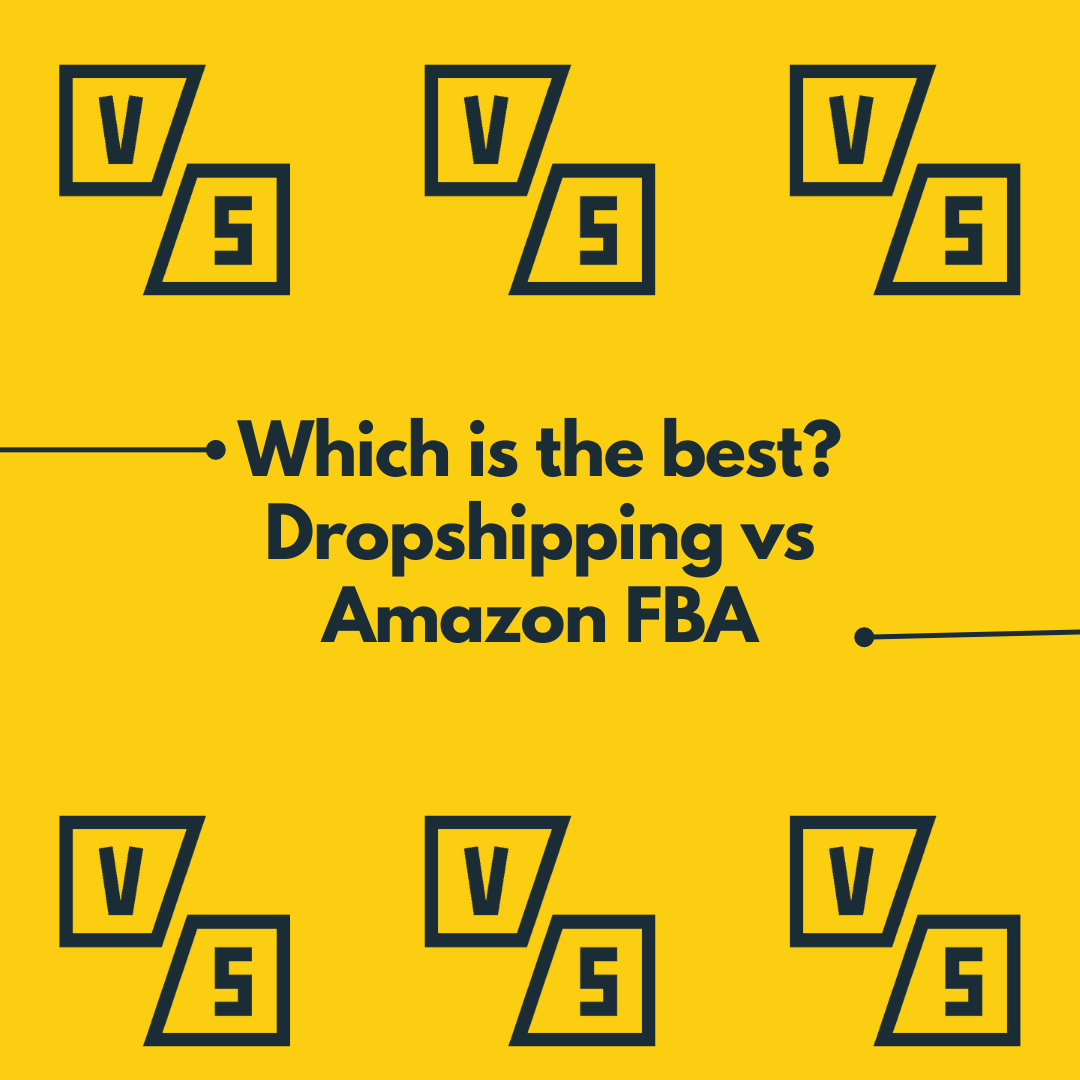 What are they?
Both Dropshipping and Amazon FBA are forms of arbitrage.
Arbitrage is the process of taking advantage of a difference in price between two or more markets. For example, you might find an item for a discounted price in a retail shop and sell it online for a higher price. This is an example of arbitrage.
With Dropshipping you do not come into contact with products. Instead, when a customer makes as order you order the product online and send it to the customer directly. This way you do not need to worry about storing or packaging items.
FBA stands for Fulfilment by Amazon. This is where you send your products to Amazon and allow Amazon to store them in their warehouses. Then when your products are sold, Amazon deliver them on your behalf through Amazon Prime to the customer.
Are there different types of arbitrage?
Different Amazon FBA sellers may focus on different types of arbitrage, or a mixture.
Retail arbitrage – This is where sellers go into shops and stores, searching for deals by physically scanning products. This method is great, especially when individual stores have sales or reductions. As a seller this allows you to purchase items at a cheaper price, generating more profit.
Retail arbitrage however does require you to travel in order to find deals in different stores and shops which can eat into your time and resources. With retail arbitrage you can also be affected by stores opening times, whereas with online arbitrage this is not an issue.
Online arbitrage – An incredibly accessible form of arbitrage, all you need is a laptop and a decent internet connection to search for online deals. With the growing popularity of online sales and exclusive online events as a seller you can source items for great prices and take advantage of online sales.
Due to the accessibility of online arbitrage there can be steeper competition in comparison to retail arbitrage. As a seller who focuses on online arbitrage it is therefore important to dedicate time to completing product research to find items with less sellers on the listing.
Dropshipping Pros and Cons
| | |
| --- | --- |
| Pro | Con |
| Low start up costs – Because you do not store products with dropshipping the start up costs are incredibly low. | Customer support – unlike Amazon FBA as a Dropshipper it is your responsibility to resolve any potential issues and communicate with customers directly. |
| No storage fees – As a Dropshipper you do not store products so you do not need to worry about extra fees to store or package items. | Potential for stock shortages – As you do not store products you do not have control over an items stock levels. It is therefore important to keep your items stock levels updated. |
| Flexibility – When starting out having the flexibility to sell a wide variety of items is beneficial to helping you generate sales. You can then specialise in a specific type of products later on if you choose. | Limited control over quality and branding – Similar to the previous point, as the item is being sent directly it is not possible for you to check or control the quality of an item. |
| Easier to grow your business – With dropshipping you can test an item without having to invest in buying it in bulk. | Tracking inventory is more difficult than traditional businesses – With a traditional business you would be able to track items. However as you do not come into contact with items it is more complex organising tracking. |
A breakdown of a few of these points
Above you can see the different pros and cons at a glance. Here we wanted to break down a few of the larger points.
Dropshipping does not require you to have space or equipment to store or package items. Therefore, with Dropshipping you have a large amount of flexibility and can offer a larger range of items to customers.
With any e-commerce business developing customer communication skills are key. And will stand you in good stead as you grow your business. Customers can pose unique or specific questions about a product. This provides you with the opportunity to learn more about your product and will benefit you in the future.
As a drop shipper you also have less control over your items' quality and brand. To avoid potential issues we suggest completing close request when deciding which items you will list on your store. Looking at previous customer reviews are like literal gold dust here and can shine a light of potential stock.
Now, make sure to keep this points in mind as we move on to…
Amazon FBA Pros and Cons
| | |
| --- | --- |
| Pro | Con |
| Amazon favours sellers who use Amazon FBA – This means your items will have a higher search ranking and will be seen by a larger number of customers. | Preparing your items – Amazon expect their items to be packaged to a specific standard. If your items do not reach Amazon's standards you can be charged an additional packaging fee. |
| Ease – Amazon deal with all the logistics, shipping and customer service. This saves you time and enables you to focus on your business growth. | Need to be aware of fees – Being an Amazon FBA seller includes paying fees to Amazon to sell on their platform*. It is important to be aware of how fees can affect you and adjust your profit margins accordingly. |
| Scalable – With Amazon FBA the sky really is the limit. As a seller you have the potential to grow your business to incredible heights. | Rules – Considering the importance Amazon places on the customer there are rules sellers are expected to follow. This is to ensure that the standard of products and their packaging strengthens Amazon's reputation as a customer focused company. Once you understand how the rules work they are easy to follow. |
| Access – You will have access to high ranking items and can easily get the Buybox allowing your a large amount of sales. | Customer data – As a seller you are not allowed to access to customer data so generating external sales is hard. |
Important things to remember
* You can learn more about Amazon's fees here.
Considering the global reputation Amazon has to uphold, their standards are high. And your standards should be high too. As a seller one of your objectives should be to provide the very best products to your customers. Following Amazon's rules and standards you can ensure you provide an incredible product. It is best to view Amazon's rules as a checklist to help you to achieve your goals. Rather than an annoyance. Are you thinking about starting your own Amazon FBA business? You can learn more about how to package items for Amazon here.
Amazon also have standards and rules in relation to how sellers run their accounts. To help you hit the ground running and ensure your account is in perfect health check out our recent blog. Your account health is vital to the growth of a strong Amazon FBA business so being aware of how your account health works is key.
Which business model is best for me?
Both Dropshipping and Amazon FBA have strengths and weaknesses. Deciding which plan works for you depends on several factors:
How much can you invest to start up your business? In our blog we take you through an honest breakdown of how much it costs to open an FBA business. Dropshipping has an incredibly low start up cost as all you need to invest in are the products themselves.
Do you have space to package items? With Dropshipping packaging items is not something you need to worry about as the item will be packaged and sent directly to the customer. With Amazon FBA it is important to put aside time to package your items to Amazon's standards.
Is it important to you to be able to physical see a product or are you comfortable depending on product research? With Amazon FBA you have the opportunity to inspect items and ensure they are up to your standards. With dropshipping you will be depending on your product research.
What are your aspirations and business goals? Amazon FBA is an incredible scalable business model. With Dropshipping scaling is equally as obtainable however you may need to organise creating multiple accounts or stores as you grow.
How do I get started?
We are glad you asked! If you have read any of our previous blogs you might know that Profitl is an Amazon FBA software. We offer the Profitl app, chrome extension and our DealFinder service as well as lots of other exciting features. Profitl enables you to see all the analytics you need to make an informed decision and grow your Amazon FBA business.
Have you heard of our sister software Dilato? Dilato is an non-API dropshipping software which helps you to grow an online business. The Dilato subscription ensures 24/7 monitoring of your account and all other features. You can learn more about Dilato here.
Concluding thoughts
In conclusion, both Dropshipping and Amazon FBA are great business models which give you the opportunity to grow your own business. Which model is best for you depends on how much money you have to investing in starting up your business. As well as how much space you have to dedicate to organising and packaging your items.
We hope that you have found this blog useful. If you would like to learn more about Amazon FBA check out our website here. We also have a Youtube channel which you can find here.