Online and retail arbitrage are incredibly accessible and effective ways of growing your FBA business. However as your business grows and you look to order bigger shipments communicating with wholesalers directly is key. Due to the larger quantities wholesalers buy and sell you will find that their pricing can be cheaper compared to online or retail suppliers. Which means you can order larger quantities of products, for a cheaper price per unit. Understanding how to talk to and build business relationships with wholesalers is therefore incredibly useful. In this weeks blog we are explaining just that so you can successfully contact wholesalers and grow your FBA business!
A breakdown of the different terms used in this blog:
Wholesaler: a person or company that sells products in large quantities at a lower price than found online or in store.
PO's: Purchase orders. This is how you will order products from a supplier.
EA: Each. Products which are sold on an individual basis.
CS: Case. Products which are sold as a collected quantity. One case for example could include twelve units. So ordering two cases would mean you are buying twenty four units.
UPC: Universal Product Code. The code which is primarily used in North America and is used to identify specific products.
EAN: European Article Number. This code is primarily used in Europe and is used to identify specific products.
How to find and contact wholesalers.
Using a search engine or a directory is a great way to find potential suppliers who you can work with. It is beneficial to search for distributors by the type of product they stock or the brand. Trade shows are also a useful way of speaking with companies and enables you to talk directly with people.
It is important to make sure a wholesaler is legitimate before you buy units from them. Does the wholesaler send you multiple emails including products which have incredibly high minimum quantity order requirements? Or are they asking you pay using bitcoin or a payment option which is unusual? It is always beneficial to do extra research. One way to learn more about a wholesaler is to read their reviews online.
Keeping a document which contains information about the wholesalers you have contacted is useful. You can use it to track how you are progressing with a specific wholesaler and take note of which wholesalers you want to contact. When you are looking for wholesalers you can add them to this document and decide whether you want to contact them.
An example of a file you could create to keep track of wholesalers you are communicating with.
You could always have a second page in your document for wholesalers you are regularly ordering from as you reach out to more wholesalers. Whatever works best for you, it is useful to have a system in place so you do not get confused or lose track of who you are contacting.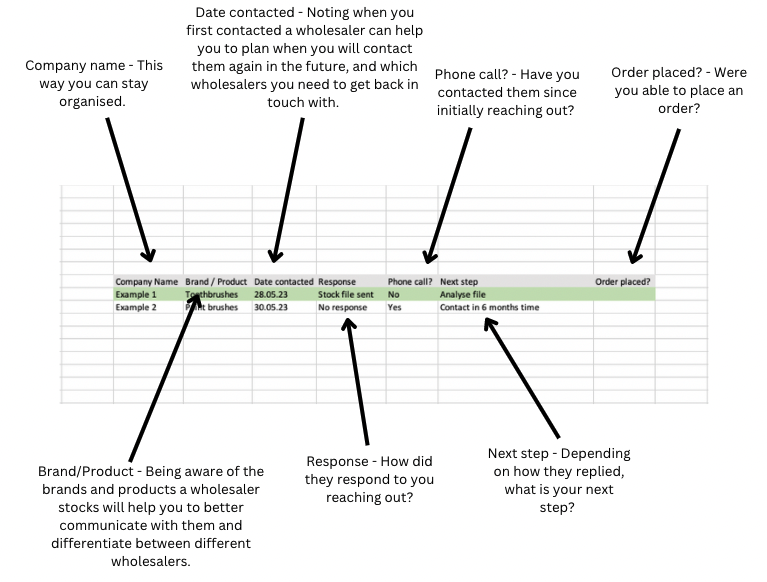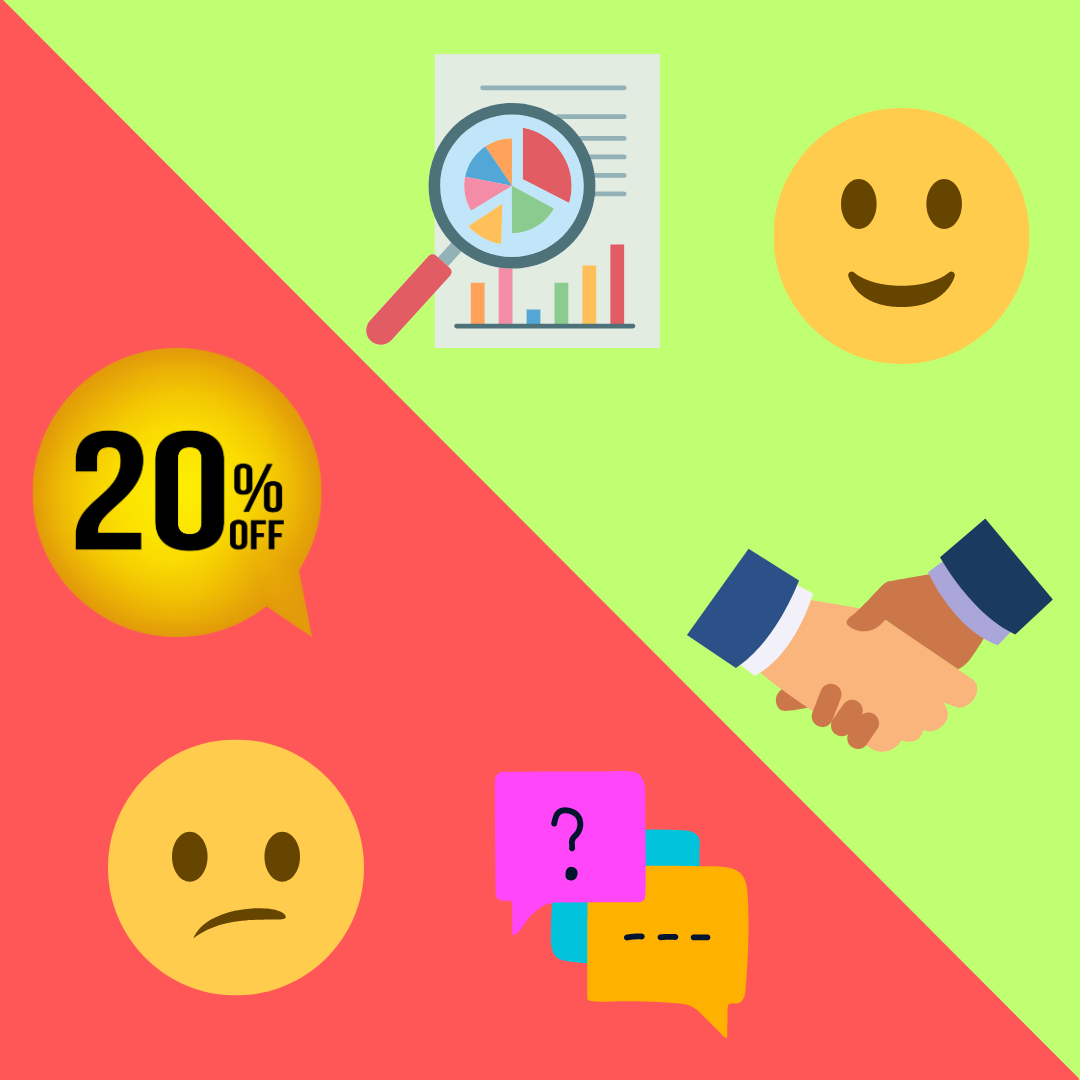 Dos and don'ts when speaking to wholesalers.
DO
Speak in a professional way and be transparent. If you want to build a strong business relationship it is important to show you are knowledgeable and truthful. Wholesaler will receive hundreds of the same types of emails requesting to open a selling account with them. If you do not communicate in a knowledgeable way you are less likely to receive a reply. An example of were you could go wrong would be if you submit a product order with errors in it.
Spend time researching a wholesaler to make sure you do not request an item which they do not stock or which is different to the item you expected to receive. By knowing some background information about a wholesaler you can show you have put in the effort and will enable you to stand out compared to other sellers.
DON'T
Do not be vague when talking to wholesalers. Just like you wholesalers are busy and need to use their time efficiently. They are less likely to reply to your emails if you are not clear about what it is you are asking for.
Don't ask for a discount for your very first order with a wholesaler. Although enjoying a discount is great as a seller, when you are first communicating with a wholesaler you do not want to portray yourself as disrespectful or to be ignoring their pricing. We would suggest waiting until you have placed a few orders before negotiating a discount on an item.
Sending an email to a wholesaler requesting to place an order.
Wholesalers will receive hundreds of emails a day requesting to open an account with them. Although you may think that copy and pasting a template to wholesalers will lead to the most replies. It is more likely to lead to lots of unanswered emails and does not portray your business very well.
Although writing emails which are specific to wholesalers will take more time it also puts you in a better light, and shows that you are interested in growing a business relationship. Your response rate is therefore likely to be higher as you have shown your genuine interest in the brands or products that a specific wholesaler stocks. And is a far more memorable way of introducing yourself.
Below we have included a skeleton draft of a email you could send to wholesalers. However we advise using it as a jumping off point to write your own messages. Emails to wholesalers should not be incredibly long. You want to communicate that you would be a beneficial customer and that you have an interest in the company. As you speak to more wholesalers you will gain a better understanding of how to begin speaking to wholesalers.
Message Template
Hello,
My company is located in Town/City and I'm interested in purchasing (type of product/ASIN) on a wholesale basis.
I'd be happy to provide any extra information or details, just tell me what you need, and I can send it over to you. Thank you taking the time to read this email.
Kind Regards,
Your Name.
Important questions to ask a wholesaler before placing an order.
Now, assuming you are receiving positive responses from wholesalers you can request a stock file from them and begin to analyse their products. But what should you be looking for and asking about before you dive into stock files? We've compiled a small list below of details which are important to ask new wholesalers.
Is shipping included in your pricing or is it an extra cost?
If products are broken or damaged during shipping who is responsible?
If there are any issues with an order how long do you have to contact with them and resolve any issues?
Can the wholesaler give an estimated date of arrival?
Understanding how a wholesale file works
So once you have asked all the necessary questions and received a wholesalers stock file what is the next step? To analyse it!
We know that it can feel overwhelming when you first open a wholesaler's file, but don't worry. With the help of the Profitl Wholesale Scanner you can let Profitl do the hard work for you, showing you which which items are potentially profitable.
Before you use the Profitl Wholesale Scanner however it is useful to know what is included in a wholesaler's file and what the different terms mean.
There are likely to be five main columns in a wholesale file:
| | |
| --- | --- |
| File Column | What does it mean? |
| Item Number | A number which is specific to the wholesaler which they use to track and categorise their stock. |
| Description | The name of the product. |
| Price | The price of the product. |
| EA/CS | The price column is based on each item (EA) or a case of items (CS). |
| Case pack | The quantity of product included in a case pack. |
| EAN / UPS | European Article Number or Universal Product Code. A code used to identify products. |
A breakdown of the columns included in a wholesale stock file.
You can learn more about the Profitl Wholesale Scanner below.
Questions you should ask yourself when looking at products.
Is it a hazmat item? We explain more about hazmat items and how you can apply for Amazon's Dangerous Goods Programme here.
Is it oversized or a variation?
Does it sell well? How many units does it sell a month?
How many sellers does it have?
What the listing's history? Has the price been consistent?
Does it have good reviews?
For more information on the questions to ask when analysing products check out our blog post here.
A reminder…
It is important to remember that not every wholesaler will reply when you reach out. Although it may feel demotivating at first a rejection now doesn't mean they don't want to speak to you in the future, now just might not be a good at time. You can always make a note to contact the same wholesaler again in six months time and see if their situation or decision has changed.
By keeping and updating your wholesaler document you can see the progress you are making and set up reminders to re-contact wholesalers about opening an account and placing a PO.
Speaking on the phone may lead to better results with some wholesalers. If you do not hear back from a wholesaler in a week we'd suggest contacting them over the phone and explaining what you have said in our email. This way you can speak to someone directly and clarify if they would like to proceed or not.
Rejection also allows you to refocus and commit your energy to finding wholesalers who would like to work with you. So although it can be frustrating don't allow yourself to get discouraged.
Why is it so important to build a strong business relationship with wholesalers?
The better your relationship is with a wholesaler the better for your business. If you are consistently placing orders and purchasing a high quantity of stock you are likely to be the first seller a wholesaler thinks of when they have a deal or need to shift their stock and are selling it at a reduced price.
The cheaper you can buy a product for the higher its ROI (return on investment) will be, meaning you make more profit or an item. Situations like this can completely turn your month around and boost your sales massively.
How can I continue to strengthen a business relationship with a wholesaler?
Clear and consistent communication.
Regular communication with wholesalers will help you to better understand how they work. And will contribute to wholesalers recognising who you are and building the foundations of a strong business relationship. Regular communication also means you stay informed and can better plan the future of your business.
Understand and honour obligations and agreements.
It is great to complete your first PO (purchase order) and have the satisfaction of knowing your business is growing. But that does not mean you can stop putting in effort. Ensuring your continued growth depends on recognising you are in an agreement with your wholesaler. This means following their order requirements and completing your order payments in an orderly fashion.
Concluding thoughts
Contacting wholesalers and suppliers is an exciting step in building your FBA business. Rather than sending a copy and pasted template to a large number of wholesalers we suggest picking the first ten wholesalers you are especially interested in working with. You can then craft unique emails explaining why you are a great business partner.
During this process you will learn how to communicate with wholesalers and build new business relationships. Once you have stock files from wholesalers you can then use the Profitl Wholesale Scanner to analyse products and find profitable deals! Good luck with contacting wholesalers and we can't wait to see you smash your goals!
We want to help you to succeed and reach your FBA goals. That's why we made Profitl. Profitl determines the best FBA deals wherever you are – in-store or online – through two solutions for one monthly price. Scan any item and analyse the data in a split second. Check out our website here.
If you are interested in learning more about Amazon FBA check out our Youtube channel. It is a great place to learn more about how Amazon FBA works and how to grow your business.
Check out our recent blog posts below!